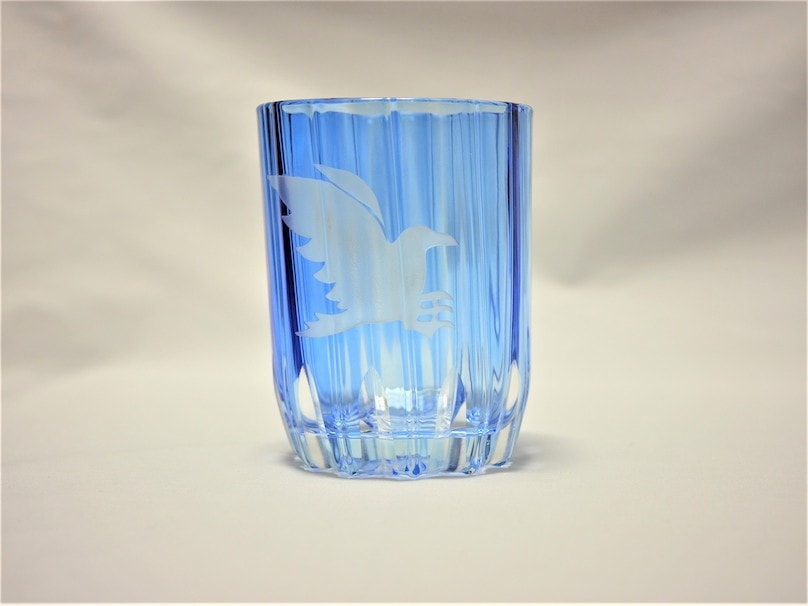 It is a glass to support the national Japanese football team. The interior of the glass has 11 squares and the height is 11cm. It depicts that "Wa = cooperating relationship" is born and strengthened by combining hands with 11 soccer players together. In the glass, "Yatagarasu," the crow used as a symbol of the Japan Football Association and design of the Japanese representative emblem, is sandblasted with NAKAKIN original design.
According to Wikipedia, "Yatagarasu" is a three-legged crow that is said to have been sent to Emperor Jinmu by Takamimusubi at the time of the Conquest to the east ("Jinmu Toosei") in Japanese mythology. "Yatagarasu" is said to have directed the Emperor from Kumano country to Yamato country, and it is also considered as the incarnation of the sun.
Because the inner part of the Yata Glass has an octagonal shape, stirring with ice in water creates a vibrant tone like soccer cheering. Further, all Yata Glass is not vertical, but rather sub-tilt. This expresses the dynamism of the national Japanese football players, "Samurai Blue". Let's cheer for Japan national football team while drinking high ball, beer and juice in Yata Glass. Through the cheers of many supporters, let's make Japan's national football team lead the World Cup championship
All the products can be found here.