Nakakin Glass Company Limited is a Glass Manufactory founded in Edogawa-ku, Tokyo in 1946 with the founder, Nakamura Kingo. Since its founding, we mainly produce "Edo color overlay blow glass" which blows two colors of glasses and contributes to the spread of Edo Kiriko (traditional faceted glass technique from the Edo period). Since its founding, we have pioneered and promoted our own research and development and, in particular, we have earned a reputation from many customers for the good coloring of overlaid glasses that we create. In recent years, we have also worked on industry, academic and public collaborations on various products and are also focusing on developing fusion products founded on new sensibilities and traditional techniques.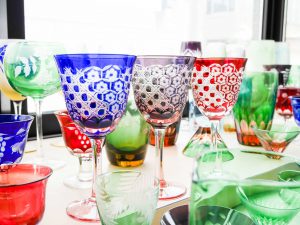 Kingo Nakamura (November 15, 1912 – August 6, 1967) was the founder of the Nakakin Glass Company Limited. Kingo was born in Sashima-gun, Ibaraki Prefecture. He was a glass artisan who first invented the "Pokan Method" for producing "Edo color overlay glass" (Edo-Irogise-Glass) in Japan.
In order to chiefly manufacture "Edo color overlay glass" which blows two color glasses one over the other, he established the Nakakin Glass Manufactory, the predecessor of Nakakin Glass Company Limited, in Hirai, Edogawa-ku, Tokyo, in 1946. The company name "Nakakin Glass" was taken from the first few syllables of his name: "Naka" from Nakamura and "Kin" from Kingo.
Since its founding, he promoted his own research and development and devoted a craftsman's life to glass manufacturing. In particular, he contributed to the dissemination of Edo Kiriko and has made a great achievement in the coloring to be put on the glass and manufacturing method of the color glass. He is said to be a shadow meritorious person in the faceted glass industry.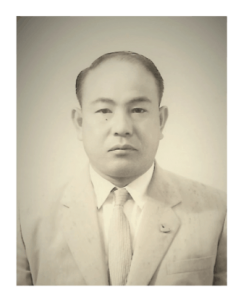 The Pokan Method is a method to make "Edo color overlay glass" beautifully and efficiently. In detail, this is a method of blowing colored glass on the outside thinly and putting it in a heated special kiln and blowing other color glass on the inside to weld it. The sound made "Pokan" when removing glass from the kiln is the origin of this name. Since Kingo spread the "Pokan Method" to those of the same professional craft workers at the time, this Pokan Method is still widely used in many glass product manufacturing. In particular, Edo Kiriko products that are currently being manufactured uses colored glass produced by the "Pokan Method" as a material that brings out the beauty of facets best, rather than lead glass (transparent glass) used since the Edo period.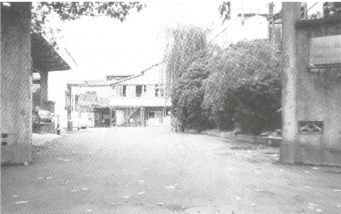 Rich Experience and Credibility
Since its establishment in 1948, we have mainly produced Edo color overlay glass and have contributed to the spread of Edo Kiriko in Japan. The "Pokan method," which is currently used in the manufacture of color overlay glass, is a technique invented by the founder of Nakakin Glass, Kingo Nakamura. Even now, we keep this technique faithfully, and our artisans carefully make each product by hand one by one.

Traditional Technique and Superior High Quality
Our Edo color overlay glass, which was created by making use of traditional techniques from the Edo era, now has many supporters like the Edo Kiriko Craftsmen and Sandblast Artists because of their radiance and coloring, transparency and vividness. Our proprietary "Suisai-Kiriko" is available in a wide variety of products such as sweet sake, rock glass, tumbler, vase and lamp.

Originality and Challenge
Positive collaboration between industry, academia, and citizen, creating innovative ideas and design, fusing new and old technologies inheriting the tradition from Edo era, reflecting patented technologies, etc. will make our customers' "stylish living a little more luxurious". So we are constantly challenging, changing and evolving. We also flexibly cope with small volume production.
| Year | Achievements |
| --- | --- |
| 2019 | Encouragement Prize for the Edo-glass Suisai Kiriko "Suika" at the 36th Traditional Arts and Crafts Exhibition |
| 2019 | Encouragement Prize for the Edo-glass "White Flower" at the 36th Traditional Arts and Crafts Exhibition |
| 2019 | Qualified as a Traditional Craftsman (Edo Glass Category) by the Tokyo Metropolitan Government |
| 2018 | Qualified as a Traditional Craftsman (Edo Glass Category) by the Government of Japan |
| 2016 | Joint development of "Guinomi Edo Hanabi" under the "& TOKYO" brand with Tokyo Metropolitan Government |
| 2015 | "Guinomi Sakasa Fuji" was certified by "The Wonder 500" project promoted by the Ministry of Economy, Trade and Industry. |
| 2014 | Kougei-award (Excellent skill award) at the 31st traditional Kougei exhibition. |
| 2012 | Edogawa-ward industrial-skill achievement award |
| 2007 | Tokyo industrial promotion distinguished service award |
| 2006 | Glass Kenko-award (Achievement award) to Keigo Nakamura, the second-generation president |