Description
Constellations at a beautiful night is represented on the glass. The rock glass is produced by using the traditional technique of "Colour Overlay Glass" which combine two colours of glasses together, and the constellations are designed through Edo-Kiriko cutting technique.
The design is an outcome of our collaboration with the local government and academia. We hope you enjoy the mixture of the traditional technique and new sensitivity.
Approx. Size: Diameter at the top 88mm, at the bottom 45mm, Height 90mm.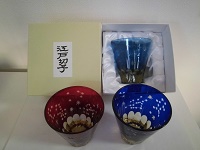 You can choose the wrapping box. The price changes if you choose the paulownia box.