Nakakin Color Overlay Blow Glass
"Nakakin Color Overlay Blow Glass" has been handmade by craftsmen who are recognized as Edo color overlay glass craft workers at their own factory since our establishment, using the "Pokan method" created by Kingo Nakamura.
The coloring of the glass is made from natural materials. The brightness of the dazzling nature and the vividness of the color, coupled with the stylishness of the Edo blown into the glass is a major feature of the "Nakakin Color Overlay Blow Glass". These glasses are endorsed by many Edo Kiriko craftsmen and sandblast craft artists for a long time.
The following is a feedback of an Edo Kiriko craft worker, who has been making facets for over 60 years, about Nakakin Color Overlay Blow Glass.
"Nakakin Color Overlay Blow Glass" is elastic, easy to insert cutting edge, it is very easy to carve. Variety of color is abundant, and color is also beautiful. For now, the number of companies manufacturing color overlay glasses has increased, but Nakakin is a pioneer who has made plenty of color variations.
It is also manufactured in Tokyo, so this is a genuine Edo color overlay glass! There is a sense of security and reliability.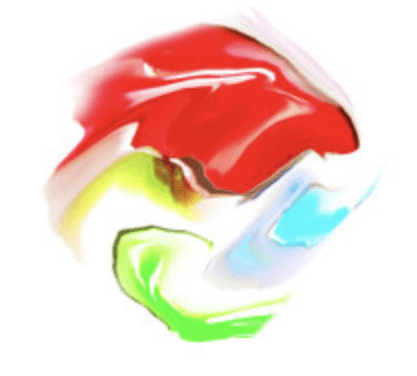 Color overlay blow glass is composed of multiple layers of different colors. By applying surface processing using Kiriko's (faceted glass from Edo period) technique or sandblasting, its polished part becomes colorless glass and it becomes a beautiful craft glass.
We have been manufacturing and selling Nakakin Kiriko, Color overlay blow glass for more than half a century. As a result of our research and development over several decades, especially on the good coloring of the glass to be overlaid, we have received high evaluation from our customers. We are confidently recommending our products to leading Kiriko craftsmen and people with a hobby of enjoying glass craft by sandblasting etc.
Nakakin manufactures "Nakakin Color Overlay Blow Glass" with the combination of the colors below. All glass components are obtained from natural ore and are all due to nature's blessings. In addition, color glass is developed by metal chemistry reaction.
| | | | | | | |
| --- | --- | --- | --- | --- | --- | --- |
| | Color of the Overlay Glass | Red | Lapis Lazuli (Ultramarine Blue) | Dark Purple | Green | Sky Blue (Light Blue) |
| Color of the Main Body Glass | "Nakakin" name Color | Shinshu | Konjou | Shoubu | Tokiwa | Shiraai |
| Crystal | Touka (Transparent) | | | | | |
| Amber | Kincha | | | | | |
| Pink | Usuzakura | | | | | |
Trial set of "Nakakin Color Overlay Blow Glass"
We are preparing a "trial set" composed of 3 pieces of "Nakakin Color Overlay Blow Glass" for Kiriko craftsmen and sandblasting craftsmen. For customers who purchase "Nakakin Color Overlay Blow Glass" for the first time, we recommend purchasing the "trial set".
The price is 3000 yen including the consumption tax and shipping fee.
Customers who wish to purchase, please order "Trial Set Request" from the telephone, fax, or inquiry form. At that time, please inform us of the address of the destination, telephone number, use (trimmed craft or sandblasting etc.).
We will come back to you after review of your information.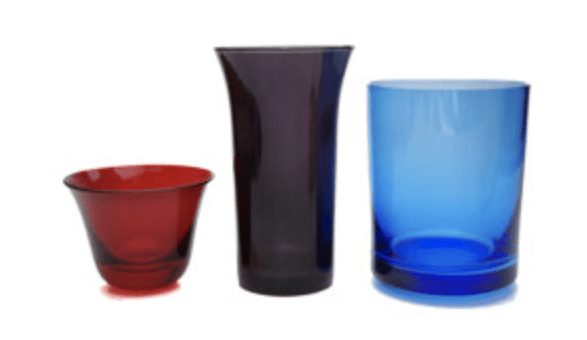 "Nakakin Color Overlay Blow Glass" for processing
"Nakakin Color Overlay Blow Glass" for processing is not being sold online. You can contact us by telephone, fax, or email form as below.
[Flow of order]
Please contact us by phone, fax, or mail form regarding the contents of your purchase.
We will inform you of the delivery date and estimated price (including shipping fee) of the products you would like by e-mail or fax.
Please send us purchase order form by e-mail or fax.
We will review the details of the purchase order sent by the customer. After this, cancellation is not possible.
We will send you an order confirmation form by e-mail or fax.
Please make full payment transfer to our designated account within 10 days before the delivery date stated on the order confirmation letter.
After payment is confirmed, we will send the item to the customer.
[In regard to dealings]
The dealings in accordance with the "flow of order" above are limited to customers who have direct transactions with us and are listed on our customer list. Customers who wish to purchase a medium golden covering glass for the first time after use of the "trial set" on our website and after having realized the quality of medium golden covering glasses, we will deal with in line with "Flow of order". We appreciate your understanding.
There are also rotations and discontinued products manufactured by our company of "Nakakin Color Overlay Blow Glass", so it may not be possible to meet your request.
If the customer's order quantity is large or the type is wide, it is expected that it will take longer than the expected delivery date of the customer, so please place an order earlier.
As red colored glass requires special skill in manufacturing, we may ask you to review the order quantity if the quantity is large.
Regarding products with inventory in our company, we will accept orders from customers as usual, but we will gradually move to custom order production system.
Medium golden covering glass is handmade using our original "Pokan" method. For that reason size, color, shape, thickness, etc. will not be the same. There is also color unevenness and small bubbles entering the glass. These are part of handmade goodness too, so thank you for your understanding.